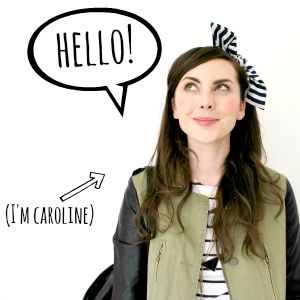 Meet Caroline - a online fashion and beauty blogger!
Caroline Burke is best known in the blogging community for her nail art tutorials and daily style posts, but there is more to Miss Burke than the blog suggests. Having starred in magazines such as Grazia and Company, as well as featured for LookFantastic, and, if that wasn't enough, she won Looks Style Search, Caroline is definitely set for a life-long career in the ever-changing world of fashion. I interview Caroline on her tutorials, outfits and inspirations..
On a day to day basis, how do you decide what to wear?
I never have a plan for my outfits: I guess I'm definitely someone who genuinely dresses on their mood that day! I usually opt for something bright, casual and relaxed. I hate feeling dressed up, I want to wear my clothes not just be a hanger for them, I hate feeling restricted!
Isobel Lucas - Caroline's current fashion crush
Does anyone inspire your fashion style?
Oh dozens of people aha! My current crush is Isobel Lucas, she has the kookiness of Alexa Chung with the boho feel of Nicole Richie which is my perfect aesthetic! I also love Kate Bosworth, Diane Kruger and Dita Von Teese to name a few.
If you had to shop in one place, where would it be?
I'm definitely a high street fan so even though I love high end designers if I had to pick it would be Topshop! They translate catwalk fashions into wearable looks so well.
Who is your favourite designer?
What compelled you to start making beauty tutorials?
It was just a natural progression for me; originally my boyfriend encouraged me to start blogging as I was always making things (I'm a secret DIY and crafter!) I began reading more beauty blogs and stumbled across WAH nails, once I discovered nail art I became quite hooked and it became a central part of my blog content!
An example of Caroline's beauty tutorial.
Many people know you through your social networking posts regarding your latest styles and beauty tutorials. Is there anything that you're incredibly proud of that people may not know about?
A big part of my life that isn't really documented on my blog is that I'm actually an artist! I originally went to Central Saint Martins because of my love of fashion but painting won the battle and I ended up following the fine art route as I've been painting most of my life. (Before blogging came along I spent most of my week barefoot covered in paint and stretching canvasses!)
Your career highlights so far?
Caroline has worked with Grazia in the past
Gosh I never really feel like I have a 'official' career aha! I've been incredibly lucky to work with some amazing people, magazines and companies through my blog. Honestly I think the highlight is just simply doing something that I love every day.
If you had to throw out your entire wardrobe, but one item, what item would you keep?
Oh lord, the thought of losing my wardrobe terrifies me! If I had to pick just one it would be my vintage stonewash jeans.
And finally, if you could put your styling magic on anyone, dead or alive, who would it be?
I would love to get my hands on Natalie Portman, I've been a little in love with her since I first watched Leon, a modern day Audrey Hepburn (..and I wouldn't mind styling Miss H either!)
Caroline would love to work with Natalie Portman
Thanks Caroline! Check out the blog at:
http://www.burkatron.com/
Be careful, there are some beautiful outfits on there, so do not enter if you are prone to jealousy. You've been warned!
Katie x